Publications:

Newsletter:

How-To Tutorials:

Consumer Guides:

Related: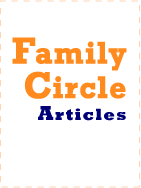 Consumer Guides

Family Circle Articles by Alvin Ubell

Home Repair & Safety Articles

by Alvin Ubell and Label Shulman
Publications from Family Circle Magazine 1980-2005.



Contents
For Home Owners: Home Health & Safety Checklists
For Buyers: Guides on Home Purchasing
DIY Gurus: Home Improvement and Repair Tips
For over twenty years, "Household Hints & Safety Editor" and contributing author Alvin Ubell has written and co-authored articles for Family Circle Magazine on safe house keeping and home repair.
Alvin Ubell would like to thank Arthur Hettich and Susan Kelliher Ungaro, both Editor-In-Chief of Family Circle, for without their encouragement and support these articles would not have been written.
---

---
Copyright © Alvin Ubell, Label Shulman & Family Circle Magazine - 2004