Publications:

Newsletter:

How-To Tutorials:

Consumer Guides:

Related: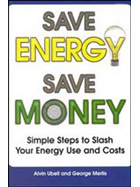 Save Energy, Save Money

by Alvin Ubell & George Merlis

Download the Book, FREE!
Learn how to lower your utility bills and increase your long term energy savings by implementing simple home improvements.
FREE! Download the entire book:
Save Energy, Save Money (4.1MB)
"Simple Steps to Slash Your Energy Use and Costs".
Written by Alvin Ubell and George Merlis
Publication Date: 2002
209 Pages
ISBN 0-02-864279-1
Excerpt From Backcover:
"Tired of soaring energy prices? Want to do something about it? Now you can! From simple, one-step adjustments to practical investments that will pay for themselves many times over, this book shows you how to take control of your energy consumption, save thousands of dollars, and help increase America's energy independence in the process."
Former Good Morning America Household Hints and Safety Reporter Alvin Ubell shows you how to...
Track where your energy dollars are going (you may be surprised);
Make your furnace more efficient;
Select and install the right insulation;
Operate your fireplace or wood stove more effectively;
Save on hot water bills;
Minimize heat loss through windows and doors;
Use your appliances economically;
Reduce your lighting expense;
Save energy in the office, laundry, bathroom, and kitchen;
Make your vehicle more fuel-efficient;
Take advantage of energy tax breaks;
And more!
FREE! "The Energy Quotient"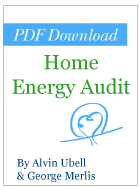 Home Energy Audit
by Alvin Ubell & George Merlis
1. FREE! Download The Energy Quotient
(PDF size: 41KB)
2. Uncover twelve areas in your home that can help you save energy and money. Grade yourself, your home and your lifestyle. "What is your home E.Q."?
3. Calculate home energy costs with the Energy Advisor*: http://hes.lbl.gov/
*The Energy Advisor is developed by the Environmental Energy Technologies Division at the Lawrence Berkeley National Laboratory.