About Us:

News & Media Events:

Related: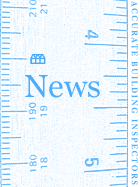 News // June 20th, 2011
Accurate Building Inspectors

®

ABI Anniversary - Since 1961
Released: 6-20-11
Half a century ago, a 27-year old cabinet-maker, carpenter, stair-builder, draftsman and student of architecture named Alvin Ubell, along with his wife Estelle, started one of a few companies that helped launch the new industry of "Building & Home Inspectors".
It all began in 1961 when an attorney friend of Alvin's asked him to inspect a home that one of his clients was about to purchase. For Alvin it was an interesting project.
Home inspection easily became a hobby. He began examining homes for friends and clients, twelve in that first year. Alvin, inspecting on Saturdays and Sundays, while holding a job as cabinetmaker, carpenter and architectural draftsman, as his client base grew. Like all inspectors back then, Alvin was not required to have permits and licenses, only insurance. He inspected and gave his opinions, and, hopefully, received payment for his advice.
Prior to that period, homebuyers had no choice but to find a "construction expert", like an uncle who has some knowledge of structure, a friendly plumber or contractor. Oftentimes homebuyers simply would wing it on their own, simply looking for defects. Most would not hire an architect or engineer due to the cost. This started the obvious need, for the development of professional, knowledgeable, building and home inspectors, of which there was none, at that time.
Alvin and Estelle ran their fledgling firm at home. Estelle managed the office. She typed reports on a portable typewriter that was so lightweight it moved at every keystroke. Her desk was the dining room table. She proofread, corrected spelling and grammar, and took down Alvin's dictations on steno pads. Who knew of a dictating machine back then?
Their first home inspection reports were only four pages long, and they received $35 for each inspection, an amount that could feed a family of four, for a week, in those days. Now, fifty years later, the fees range from $650.00 upwards, depending on the cost of the property and or the size of structure being inspected. The reports now are more extensive, running 20 to 25 pages, and sent out via email for quicker turnaround.
As a pioneer in the field of home and building inspection, Alvin helped establish the standards and codes of ethics that advanced the industry as an indispensable part of home buying or property procurement industry. He was one of the original Charter Members of the "American Society of Home Inspectors" (ASHI). In 1975, at the first meeting, there were only about a dozen or so interested building and home inspectors. Now, the ASHI membership roster is nearly at 6,000, who all must now demonstrate competency under a strict code of standards and ethics.
Alvin, while developing a building and home inspection firm, was for several years the Household Hints and Safety Reporter for ABC's Good Morning America. He later became the Household Hints Editor for Family Circle Magazine. To date, he has authored three books—all well-received on home maintenance must-haves — published by The New York Times Books, New American Library, Warner Communications and the Encyclopedia Britannica. Alvin also received a prestigious award from the "US Consumer Products Safety Commission" for his work and dedication to safety in the home and workplace; from the "Institute of Humanities" he received the "Achievement & Ethics Award"
Alvin and Estelle's mom-and-pop adventure is now a nationally known firm: Accurate Building Inspectors ® (ABI). Alvin and Estelle are still married and active partners in the company. Their son Lawrence, the second of three children and who joined ABI in 1983, is now the President, Chief Inspector and a partner. The company now has 7 full-time employees, with inspectors who are members of ASHI and the American Institute of Architects (AIA), and are fully insured and licensed in the states of New York and New Jersey. The office has long since moved from Alvin and Estelle's home to a 3-level building in Brooklyn. And the lightweight typewriter has long since been retired, replaced by sophisticated computers, programs and office machines. Performing nearly 800 inspections per year, ABI serves approximately 3,500 attorneys, architects, engineers, real property managers, governmental agencies, insurance firms and members of the general public. ABI has inspected approximately 25,000 structures over the past fifty years.
ABI operates two distinct divisions. One division serves the building and home-purchasing community and the attorneys who represent them. Structures inspected range from one and two-family houses to high and low-rise buildings, from multiple dwellings and apartments in cooperatives and condominiums to commercial and industrial properties. Lawrence heads this inspection branch. Semi-retired Alvin leads the other division, which services the legal profession, providing expertise on construction and mechanical matters. The work involves general research, issuing reports, finding evidence, finding regulatory codes and standards, collecting photographic documentation, and, on occasion, providing expert testimony before the court. Alvin has testified in federal, civil and state supreme courts over a hundred times.
In addition to serving numerous clients, ABI distributes information to the general public at no charge. It publishes The Gotham City Inspectors ©, a nationally distributed newsletter, and maintains an extensive website (www.AccurateBuilding.com) that contains hundreds of free downloadable do-it-yourself home repair and energy saving projects and tips.
Alvin and Lawrence are the Gurus of How-To on the Leonard Lopate radio show (WNYC, 820AM/93.9FM, an affiliate of the national public radio system). Gurus of How-To is a live call-in show where the father and son team are bombarded with questions on building and home problems and defects, everything from leaking roofs, basements, cellars, broken windows, toilets that don't flush, radiators that don't heat, air conditioners that don't cool, to bug and vermin issues. Many questions are of scientific and on legal subjects. The gurus' replies come with candor, knowledge and humor. It is not uncommon that the radio engineers and producers, behind the glass sound wall in the control room at the studio, break into laughter. The banter between father and son comes across with fun and love, while host Leonard puts in his quality two cents and acts as a referee.
One of the show's major attractions is the word-game. Given a definition and description, the audience tries to figure out the often obscure architectural or construction word in question. The winner gets a signed copy of one of Alvin's books. Alvin has been on the show for over twenty years. Lawrence joined his father about ten years ago. They perform this public service pro-bono. The Gurus of How-To signoff is quite legendary: "Come on America, Go Forth and Fix, Save Energy and Money, But do it Safely."
Though ABI's business and outreach has grown significantly since its beginnings in 1961, the company still has a mom-and-pop approach, especially in terms of personalized service and non-generic reporting. The firm has stayed true to its founding credo: "Dedicated to Quality & Safety in Housing & Construction ©"
Accurate Building Inspectors® 1860 Bath Avenue, Brooklyn, New York 11214-4616
Tel 718-265-8191 :: Toll-Free 1-800-640-8285 :: Fax 718-449-7190
www.AccurateBuilding.com